EXHIBITOR INTERVIEW: ACFA BUILDING SOLUTIONS
In talks with Dr. Abdallah Al Saeedi, Owner & General Manager
ACFA Building Solutions will be exhibiting its latest products at The Big 5 Construct Kenya this November. We spoke to the Owner & General Manager, Dr. Abdallah Al Saeedi; here's what he told us as he prepares to participate in the largest construction event in Kenya.
​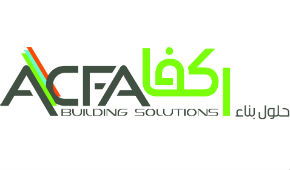 What products will you be showcasing at the event?
We will be showcasing 2 main products:
​1. ACFA fiber cement boards:
​There are two types of ACFA® fiber cement boards according to their applications. The first is ACFA® interior fiber cement boards and the second called ACFA® exterior fiber cement boards.
​
ACFA® Fiber Cement Board is a strong and flexible board composed of Portland Cement, refined ores, and reinforced cellulose fiber as the main materials. It is made under high temperature and pressure which generates a light weight, durable and smooth-faced board for various applications. ACFA® Fiber Cement Board is a light weight energy saving building panel with non-asbestos fiber that is treated by high temperature and high pressure autoclave process, in accordance with ISO 9001.
Interior fiber cement board is used for the decoration purpose such as paint, wall paper, natural stone, tile and resilient flooring. It can be applied in wet and dry areas.
​The sheets may be supplied as coated or uncoated and classified to four grades according to their flexural strength. The grade of a given product will be declare in the literature for that product.
ACFA® exterior fiber cement boards is used textured and untextured flat sheets intended for exterior applications such as claddings, facades, curtain walls, soffits, and so forth.
There are two types, according to their intended application. Type A: Sheets are intended for exterior applications, subjected to the direct action of sun, rain, or snow. They are supplied coated or uncoated. Type B: Sheets are intended for exterior applications, not subjected to the direct action of sun, rain, or snow.
2. ACFA walls
​
What value do these products bring to the region's construction industry?
These products help in finding better solutions for new construction and for the maintenance of the old buildings with better properties & longer durability.
ACFA products introduce an economical solution for the housing industry.
Can you share your outlook on the Kenyan construction industry:
​Why is it important for you to do business in the region?
It is very important for us to do business in the region because there is no other factory which develops the same products with the such high quality, these products are imported from China, India & Europe.
What is unique about the Kenyan industry compared to other regions?
There are many mega projects for construction upcoming in Kenya. This gives us an opportunity to invest in this growing market, making it unique compared to other regions.
How will it benefit customers to see you at the event?
The customers will see that their need for high quality products can now be satisfied very easily with ACFA products in the market.
About ACFA Building Solutions -
ACFA Building Solutions is a Saudi-based company, dedicated to sustainable development, offering local & global consumers series of economical products and highly creative solutions presenting a unique formula for an affordable luxury. We provide optimum products with the objective of delivering accountable building solutions to the entire construction scenario. Our industrial facility manufactures a wide range of fiber c. boards (4mm – 20mm) and sandwich panels (EPS) 5, 10, 15cm. Our boards are used in residential, commercial and industrial buildings and schools and hospitals.
Meet with ACFA Building Solutions at The Big 5 Construct Kenya - Location: Hall No. 2 Stand 2C32